Big D's Ice Cream Party Truck serving the area's best ice cream, novelty bars, scoops, cups and cones, soft serve and snow cones in Manassas, Woodbridge, Centreville, Chantilly, Gainesville, Ashburn, Fairfax, Haymarket, Nokesville, Warrenton, Leesburg, Stafford, Fredericksburg, Fauquier County and Spotsylvania County.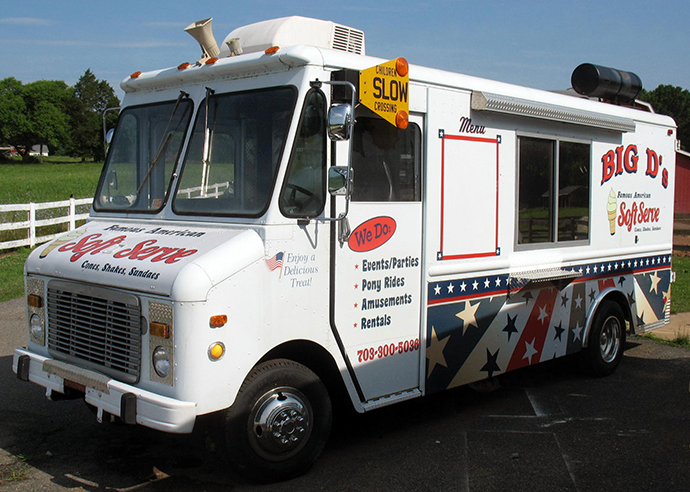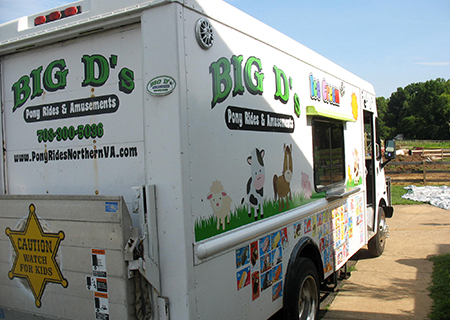 We can tailor a home or business ice cream party for you today!
Call Us for Availability and Prices.
Base price starting at $300 includes 50 servings.
We would love to be your novelty ice cream/cold drink/concession for your children' parties, community events and charity fundraisers!
We have been your neighbors for over a decade and are proud to be recognized as carriers of a unique American tradition. We operate ice cream trucks featuring bells and familiar tunes. With us you will feel like a kid again while creating the wonderful memories for your children too. We offer a huge variety of novelty treats from the best dairies: Well's Blue Bunny, Good Humor and Rich's, known for quality products throughout the Unites States. We keep our costs low, and strive to offer you best prices in the Northern Virginia area.
Our motto is "When You Scream for Ice Cream…We Are There", which we do by visiting your neighborhoods, work places, schools, parks, and anywhere else you may find yourself. But we're still eager to respond to your invitation and bring the treats to your special event. What a fun surprise to have an ice cream truck visit your chilD's birthday party or make any other event even more special with our cool treats. We thrive for outstanding service and attention to detail. We want every experience you have with us to be pleasant and worry free. If you like to reserve one of our ice cream trucks for your next event, you can use reservation form. We would love to be a novelty treats caterer for your next event.
---
Book A Big D's Ice Cream Party Truck for your Special Occasion, Socials and Fundraisers. We have Novelty Bars, Scoops, Soft Serve, Cups and Cones, Snow Cones and more. Call us today for details!
Big D's Ice Cream Truck will make occasional visits to your place of work at lunch time. Is your daycare center or school looking for an ice cream social? Does your organization need to raise money? Give us a call and we would be happy to discuss your needs.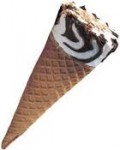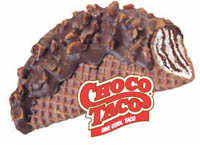 Company Picnics
Parades
Car Shows
Birthday Parties
Graduations
Charity Fundraisers
Field Days
Fundraising Events
Daycare Centers & Schools
Grand Openings
Craft Fairs and Bazaars
Social Parties
Bar/Bat Mitzvahs
Outdoor Concerts
School Field Days
Catered Functions
Marathons & 5K Runs
Class & Family Reunions
Weddings and Anniversaries
Conventions and Trade Shows
Employees Appreciation Days

---
Big D's Menu
Our truck can be stocked with standard brand names like Good Humor, Popsicle, Klondike, Blue Bunny, Fruit-a-Freeze and others. Our truck can be stocked with snacks and ice cold drinks like Pepsi, Diet Pepsi, Sierra Mist, Bottled Water, and Gatorade, Lays Potato Chips, Doritos and an assortment of candy upon request. If you desire a special brand name for the 50 servings, please tell us and there may be an extra charge, just ask us.
---
FAQs
We operate 7 days a week, April to November. Our hours depend on your needs. If you would like to get a quote or confirm an order for your event, please phone us at 703-300-5036 or email us at bigdponyrides11@gmail.com. We will get back to you fast with an accurate quote or confirmation. We ALWAYS have trucks available, so you do not need to inquire if your time slot is open, we will find a truck for you. If you have more of a general question, then send us an email or give us a ring:
Here are some answers to the questions customers ask most frequently:
Do you have the truck available for that date and time?
Yes, we always have trucks available!
How does your service work?
We come to your event at requested time and place, play the music and ring the bell. Your guests can choose the ice creams from the side of the truck. Driver keeps the tab of what everybody orders and presents you the bill at the end.
How much do you charge for your services?
The base price of $300 includes a travel fee of 30 minutes. If the travel is over 30 minutes a travel fee based on the amount of time the truck is needed will be charged.
What information do I need to place my order?
To complete your order, you need to provide us: the date(s), time(s) and location(s) of your event(s). Please, try to give an estimated number of guests for each event. We will also need contact information for a person in charge of your event at the location.
Do you have any references?
If you need industry specific references, for example from schools, daycares, corporations, etc., please inquire by email.
What forms of payment do you accept?
We always accept cash and company checks. Personal checks are accepted at the driver's discretion.
What kinds of ice cream do you have on the menu?
Any combination is available for your selection, and we can cover up the ones that you don't want to be included. Besides a regular menu, additional items could be available upon request for large events.
How long in advance do I need to book my event?
We always recommend that you book early, especially during the summer months. However, we do our best to accommodate all our customers and even offer same day service when possible.
What is your cancellation policy?
You may cancel the reservation for any reason up to a day before the event. In case of bad weather we will work with you on the day of the event to reschedule if you like. If you would like to cancel on the day of the event for personal reasons, we ask for a cancellation fee equal to a half of the previously set minimum purchase commitment.
What is your policy on consumer privacy?
We are committed to protecting your privacy. We ask you to provide personal information such as e-mail address, name, home or work address, and telephone number. None of this information will be shared with any other vendor or a third party source.